Latest activist murder in the Amazon highlights battle over land, logging
(Read article summary)
The death of Obede Loyla Souza in Para state in the Brazilian Amazon is the fifth murder in a month. It may have been the result of a land conflict, underscoring a pattern that pits development against the environment.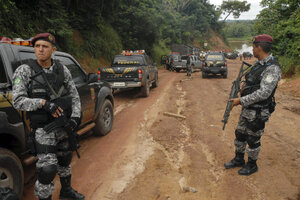 Paulo Santos/Reuters
Jose Claudio Ribeiro da Silva and his wife, Maria Do Espirito Santo Da Silva, were ambushed and murdered on Tuesday, May 24, close to their home in the village of Nova Ipixuna, in Para state (in Brazil). The couple had spent years campaigning against illegal logging in the area, including setting up roadblocks to stop timber vehicles passing through.
They were killed with gunshots to the head, which investigators said were likely fired by at least two assassins. The police said they were working on the theory that it was a hit ordered by "loggers in the region."
This was given further weight by the murder of Eremilton Pereira dos Santos, a young man who lived in the area who went missing (last month) and was later found dead. His relatives said that he may have been killed because he'd witnessed the activists' murderers fleeing the scene of the crime.
Ribeiro, as has been widely reported, was filmed some months before the killings making a speech at a TED Amazon conference (see video at Insight), in which he tells the audience he is in danger of being murdered by groups who were illegally exploiting the forest around his home.
---