Street gangs on the rise in South America: Are Central America's 'Maras' among them?
(Read article summary)
South American street gangs may not be as notorious as the violent 'maras,' but they pose a significant threat to security, writes guest blogger Geoffrey Ramsey.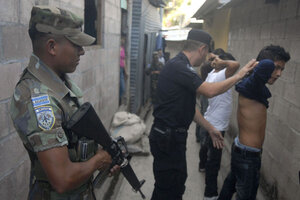 Leonardo Baldovinos/REUTERS
• A version of this post ran on the author's site, Insightcrime.com. The views expressed are the author's own.
In recent years, officials have expressed increasing concern about the influence of Central American street gangs, known as "maras," in South America; but while street gangs are on the rise in the region, they are a different beast.
On May 25 last year, 19-year-old Peruvian Oscar Barrientos shot and killed his father in their home in Callao, a city just west of Lima. When Peruvian police arrested him last month, however, his confession was less shocking than his reported motive. According to officials, Barrientos considered himself a member of the Mara Salvatrucha (link in Spanish) – also known as MS-13 – and may have killed his father as part of an initiation rite into the gang (see original post for photo of his tattooed lower lip). This revelation set off a wave of speculation in Peru on the influence of the Central American street gang in the country, and prompted local police to claim that Callao is home to at least one MS-13 crew of about 20 individuals.
---