Uruguay postpones vote on 'state as dealer' approach to drug regulation - but not for long?
(Read article summary)
President Mujica always said he wouldn't push the proposal if a majority of Uruguayans didn't accept it. But few think this postponement means the project is forever shelved.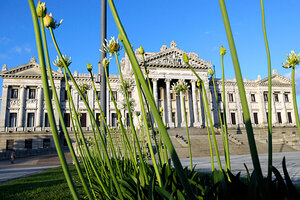 Matilde Campodonico/AP
Uruguay has been on the vanguard of drug policy reform in the Americas, proposing a state regulatory market for the cultivation and consumption of marijuana. (See our cover on "Latin America reinventing the War on Drugs" here).
But last week the project's No. 1 proponent – and perhaps the globe's most trailblazing reformer – Uruguayan President Jose Mujica, told Parliament to postpone the vote.
President Mujica always said he would not go forward with the proposal if a majority of Uruguayans did not accept it. And a new poll by the firm Cifra shows 64 percent of those surveyed remain opposed.
"Don't pass a law because it has a majority in Parliament," the president was quoted as saying in the local press. "The majority has to be in the streets."
His words will generate a cheer from those opposed to such a radical rethink of the "war on drugs," from United States drug officials to functionaries at the United Nations.
But few think it means the project has been forever shelved, including those who don't explicitly favor it. In fact, Pablo Stratta, who is the secretary of the Mothers of the Plaza, an organization that fights against drug addiction, says that the polls do not reflect that people are necessarily against Mujica's project but that it is simply not their top priority – an opinion his organization shares.
"Before we talk about legalizing any substance, whether it's marijuana or any other, we have to start talking about addiction from a health perspective," Mr. Stratta says. "There are many other problems to be talking about, such as the families of drug addicts, or the number of addicts living on the streets."
---