Burma (Myanmar) opens door for aid, but remains wary
A donor conference Sunday pledged some $100 million, but participating nations said aid was conditional on greater access.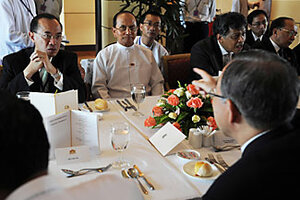 Stan Honda/AP
A drumbeat of diplomatic pressure on the military rulers of Burma (Myanmar) has cracked open the door for more international aid to reach cyclone survivors after weeks of scattershot deliveries. But the junta's reflexive suspicion of the Western powers' offer of humanitarian help, and the hands-off approach of China and India toward the crisis, may continue to frustrate relief efforts, particularly if Burma's neighbors fail to stay engaged, say regional analysts, aid officials, and Western diplomats.
Among the key issues has been the loosening of strict controls on foreign aid workers pressing for unfettered access to the disaster zone. In an apparent breakthrough, Burma's reclusive leader, Gen. Than Shwe, told visiting UN Secretary General Ban Ki-Moon on Friday that he would be more flexible on access, a stance echoed by other Burmese government officials at an international donors' conference held Sunday in the commercial capital Rangoon (Yangon).
The UN says that up to 2.4 million Burmese need emergency assistance and has begun raising $200 million for a six-month relief program. Nearly 80,000 people are said to have died; 56,000 are counted as missing.
---