China quake: Controls cautiously lifted on flood of volunteers
More than 150,000 have come to help at the quake zone.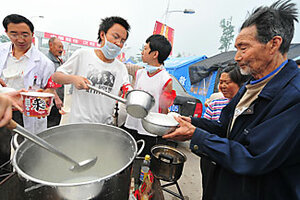 Frederic J. Brown/AFP/Getty Images
Standing at a dusty crossroads surrounded by thousands of homeless earthquake victims, Chen Shoujun had almost lost his voice. He had shouted himself hoarse that morning, he said, trying to organize crowds of enthusiastic young volunteers who had flocked here. "It's not so chaotic now," he said, wiping his brow. "We've got a team of 200 people cleaning the place up and spraying disinfectant."
At the sharp end of its postearthquake relief and rescue effort since May 12, China's government could not have done without volunteers like Mr. Chen.
More than 150,000 of them have flooded from across the country into the quake zone, according to official estimates. And some observers see in their desire to help a potentially enormous boost for China's fledgling civil society.
"For 2,000 years the Chinese were subjects; since 1949 we have been citizens. This moment is very important to awaken a sense of volunteer spirit and civil society, even if it does not exist yet," says Zhai Yan, the founder of a nongovernmental organization (NGO) offering psychological counseling.
The Chinese government has always been ambivalent about NGOs. On the one hand, officials recognize that such privately funded groups can fill gaps in the country's tattered social welfare system. On the other, the ruling Communist party is deeply suspicious of any social organizations beyond its control. Some groups have legal existence, but that is not easy to achieve under current regulations.
---