After China's quake, disarray for kids
Authorities are still tallying how many children survived or were orphaned.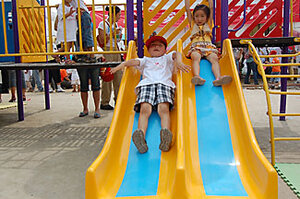 Peter Ford
As they do every year on Children's Day, parents of this village went to the park in nearby Mianzhu on Sunday.
But this year the straggling group had no mischievous offspring in tow. Instead, each carried a framed photo of the child they had lost in the May 12 earthquake.
In a tent city a few miles away, preschoolers celebrated in more joyful fashion, playing on slides at a new day-care center.
The plight of the quake's youngest victims has drawn attention because of the tragic way thousands of schoolchildren died at their desks.
As the focus shifts to the survivors, the picture is one of disorganization and confusion: Nobody knows how many children are living in makeshift refugee camps, how many need treatment to help them overcome trauma, or how many orphans the earthquake left, officials say.
"There are a lot of things we don't know," says the spokesman for the Sichuan provincial education bureau, who identified himself only as Mr. Zeng. "It is difficult to do the statistics because we are still registering victims" of the earthquake, whose confirmed death toll is so far 69,000 people, with 19,000 missing.
Compounding the confusion, say international relief workers, is a lack of organization now that the initial rescue and relief work is over.
"Our biggest concern is that there is not a lot of coordination" between government agencies or between government and private groups, says Kirsten Di Martino, head of psychosocial support for the United Nations Children's Fund (Unicef) in China.
---