China's massive postquake tasks
Still short 2 million tents, it must also rebuild homes and jobs for 5 million.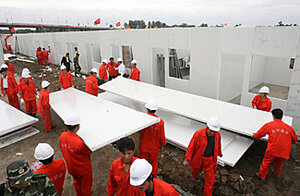 Xinhua/Photoshot/Newscom
Now comes the hard part.
The Chinese government has won plaudits at home and abroad for its quick and efficient response to the earthquake that devastated large parts of Sichuan Province one month ago, leaving 85,000 people dead or missing.
Bringing the area back to life, however – restoring houses and jobs to 5 million homeless survivors – poses new challenges that are likely to stretch officials' ingenuity well into the next decade, experts here warn.
"The most difficult thing for the government will be resettling victims," says Peng Zongchao, a crisis management expert at Tsingua University's Public Policy Institute in Beijing. "They will have to rebuild 3 million houses at least."
For the time being the authorities are putting off that monstrous task. Having averted the danger of a major flood by draining the biggest quake lake, they are now pouring all their efforts into keeping victims watered, fed, and healthy while they throw up temporary housing anywhere they can find a flat piece of land.
They are moving fast: 107,000 units were ready for occupation by last Friday, according to official figures, while another 250,000 were in the pipeline. It will probably be many months, however, before enough of this sort of housing has been built, given the numbers of people needing shelter.
In the meantime there are too few tents. Only 1.2 million have been delivered to the earthquake zone so far, the government says, well short of the 3 million it has said are needed, apparently because Chinese manufacturers cannot make them fast enough and no international organization can provide the number needed.
---