China's economy cools
Its growth rate slowed to 9 percent in the third quarter as exports to the US and Europe start to slacken.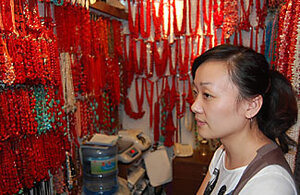 Peter Ford/The Christian Science Monitor
Liu Xia Feng does not pretend to understand subprime mortgages or international finance. And a man who sells wooden walking sticks and rolling pins may not seem to be a good global economic barometer.
But Mr. Liu operates one of the tens of thousands of shops in Yiwu's International Trade City – a cornucopia of Chinese-made products that fills five massive malls. He says some of his overseas customers are now late in making payments. "We don't understand these big theories, but we are certainly feeling the impact," he says.
His concern is repeated again and again by Chinese exporters big and small. As export growth falls, the pace of the world's fourth-largest economy is slowing. Official figures released Monday showed China's growth throttling back to 9 percent over the past three months, down by a quarter from last year's annual rate.
Hopes that China's healthy domestic economy might protect it from the effects of the global slowdown are now fading. The export growth reduction coincides with a Chinese real estate slide. "There is a little bit of a cushion, but not enough to save anyone else's bacon," says Arthur Kroeber, who heads Dragonomics, an economic analysis firm in Beijing. "The big economies are going to have to get out of this on their own."
Exports have been a major driver of Chinese economic growth over the past three years, with foreign sales accounting for about one third of the rise in gross domestic product.
---