Clinton 'reintroduces' US to Asia
Secretary of State Hillary Clinton wrapped up her trip to Japan, South Korea, Indonesia, and China on Sunday. Her aim was to reenergize key ties to the region.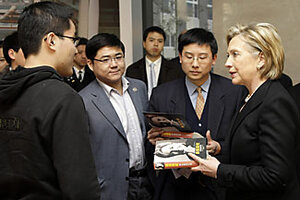 Greg Baker/AP
Hillary Clinton headed home from China Sunday at the end of her maiden trip as secretary of State, saying she was leaving "encouraged by the possibilities of what a stronger relationship can mean for the Chinese and American people."
A whirlwind Asian tour that took her to Japan, Indonesia, and South Korea, as well as Beijing, appeared to have served its purpose "to reintroduce America to the world and to bring a message … about how we are going to work with people to find common ground" as Secretary Clinton put it.
She met a generally favorable reception from her hosts, though some Chinese analysts cautioned that problems will arise as Washington seeks Beijing's agreement on how exactly to tackle the global economic crisis and climate change, the two top items on Clinton's agenda.
During a trip clearly focused on China, Clinton also visited two key allies in the region.
In Tokyo, her first stop, she made "an effort to assuage Japanese fears … that Obama would revive trade pressure and ignore Japan in favor of China" says Ellis Krauss, an expert in Japanese politics at the University of California in San Diego.
---