More Filipinos question birth-control taboo
A bill to provide contraception is the first to reach House debate in this largely Roman Catholic country.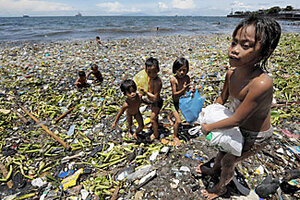 Jay Directo/AFP/Newscom
The battle over a ground-breaking reproductive health bill is heating up in the Philippines, a country where the influential Roman Catholic Church's opposition to artificial birth control has long held sway.
A measure to provide government-funded family planning, contraceptives, and sex education has made its way onto the House floor for debate – the furthest any such draft legislation has ever reached.
The bill's passage isn't certain. But proponents say its traction so far shows that the political clout of the Roman Catholic Church is on the wane.
"The influence of the Catholic Church has steadily weakened, just like in other countries," says Congressman Edcel Lagman, the bill's key House sponsor, in a phone interview. "People are now more independent in their attitudes and their beliefs, and the ultraconservatism of the church doesn't jibe with the progressive ideas of the people."
Backers of the bill say it's needed to prevent illegal abortions and help curb poverty by addressing overpopulation. But the church sees artificial birth control as immoral and has long prevented any efforts to provide government funding for such methods. It only supports "natural" birth control, such as the "rhythm method," by which women avoid having sex on the most fertile days of their monthly cycle.
The church's allies warn that the bill could be a first step toward the legalization of abortion. A small group of them is holding up the bill in questioning on the House floor. Mr. Lagman and other sponsors hope to clear that hurdle when Congress comes back from break in mid-April.
---