China's quake survivors: Counselors offer patience and encouragement
A gargantuan task – some 2 million are said to need psychological care – is complicated by stigmas attached to mental illness.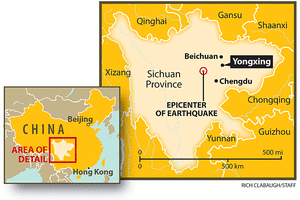 Rich Clabaugh/Staff
Zhang Boxi leans solicitously toward the old woman weeping softly as she speaks. From time to time, he offers her a few encouraging words. Mostly, though, he just listens.
Dr. Zhang is one of some four dozen psychological counselors working in Sichuan Province's temporary housing camps, seeking to give solace to survivors of last year's earthquake.
It is a gigantic task: Zhang Kan, one of China's top psychologists, estimated that 2 million quake victims were in need of some sort of psychological care after the disaster. Zhang Boxi and his colleagues have so far reached 200,000 of them.
For many, counseling remains taboo
It is a task made harder by the fact that most of the victims are relatively uneducated country folk, for whom mental illness is taboo and psychological counseling means nothing.
"Our office sign does not say that we do psychological counseling," says Zhang, a young volunteer from the city of Tianjin, near Beijing. "We offer 'tutoring,' because people won't acknowledge that they have psychological problems."
Many do, of course, after a tragedy which killed an estimated 80,000 people and left millions homeless. Although "95 percent of survivors recover by themselves after a few months," says Zhang, "5 percent cannot."
---