China reins in more rights activists by seizing computers
A raid Friday targeted lawyers who had done pro bono work for those affected in last year's tainted milk scandal.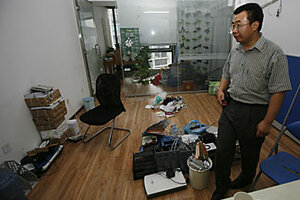 Greg Baker/AP
In another sign of the Chinese authorities clamping down on civil rights activists, on Friday officials confiscated the computers of lawyers working on last year's tainted milk scandal.
In a morning raid, 20 officers of Beijing's Civil Affairs Bureau filled the small headquarters of the Open Constitution Initiative. OCI's lawyers made headlines in 2008 for their pro bono work on behalf of the victims of the Sanlu Group's tainted milk powder, which killed at least six children and affected hundreds of thousands.
The raid comes a few months after the authorities effectively disbarred some of the country's most outspoken civil rights lawyers and ordered a prominent human rights law firm to close.
"In run up to the 60th anniversary of the founding of the People's Republic in October, [Friday's] incident of harassment sends a clear message from Beijing: Anyone who tries to assert a civil society will be controlled," says Sharon Hom, executive director of Human Rights in China, based in New York.
Organization declared illegal
Xu Zhiyong, a founding partner of OCI, said he did not know why the raid occurred when it did.
"The Bureau of Civil Affairs took everything away in the office, including the documents about the poison formula case and petitioners that we help, the booklets that we printed, computers, tables, and chairs," he said, when reached by telephone during the raid.
---