North Korea reaches out to US with talk of peace treaty
North Korea repeated a longstanding call Monday for a peace treaty to replace the Korean War armistice, in an apparent bid to deal more closely with the US.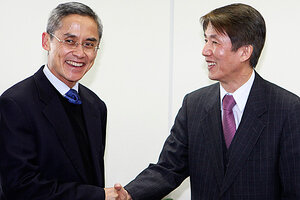 Lee Jae-Won/Reuters
North Korea called again for a Korean War peace treaty on Monday, in an apparent bid to deal more directly with the United States while putting off multilateral talks on its nuclear weapons program.
Pyongyang's Korean Central News Agency quoted a foreign ministry spokesman as saying a peace treaty would "help terminate the hostile relations" between North Korea and the US and "positively promote the denuclearization of the Korean Peninsula at a rapid tempo."
The North Korean foreign ministry spokesman said the signatories of the Korean War armistice should negotiate a Korean War treaty to replace the armistice either in separate talks or during six-party talks. The latter, last held in Beijing in December 2008, include Japan, China, and Russia as well as the US and North and South Korea.
---