Google in China: lionized online, brushed off by Beijing
Beijing's steely response Thursday to Google's threat that it will leave China unless censorship stops contrasted with Chinese Internet users' outpouring of support.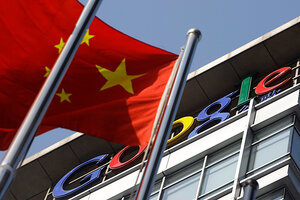 Jason Lee/Reuters
A familiar pattern has emerged in Beijing since Google announced that it would close its Chinese business unless it is allowed to operate its search engine here uncensored.
The Internet exploded in a welter of comment from China's online community, mostly supportive of Google. The government has remained tight-lipped, and now appears to have ordered websites to stifle discussion of the affair.
Making no mention of Google or its bombshell announcement, Foreign Ministry spokeswoman Jiang Yu said Thursday only that "China's Internet is open. The Chinese government encourages development of the Internet and is building a beneficial environment for it."
Casting doubt on that assertion, China's four largest Web portals Thursday deleted the thousands of comments on Google's announcement that had been posted the day before. The Chinese government routinely directs major websites not to allow posts about sensitive subjects.
'Google has guts'
Still lively was Twitter, popular with tech-savvy users who know how to circumvent the government's block on the social-networking site.
Tweets have shown "overwhelming support for Google," says Michael Anti, a Beijing-based media analyst. "They are saying Google has guts."
---