A new world wonder? China's Great Wall remade in tons of chocolate
Part museum, part Willy Wonka factory, a new exhibit in China boasts chocolate models of the Great Wall, a Louis Vuitton purse, and a basketball player in mid-dunk.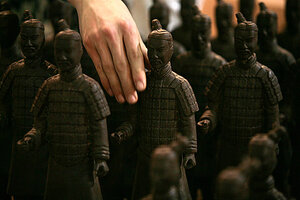 Grace Liang/Reuters
What do you do with empty Olympic facilities to try to make them useful once the Games are over?
Why, open a World Chocolate Wonderland, of course.
That's what the Chinese have done. In a hangar-like building next to the Bird's Nest a team of innovative chocolatiers have taken 80 tons of Belgian chocolate and turned it into replicas of the Great Wall, the famed terracotta warriors, and even more unlikely icons, such as a Louis Vuitton handbag.
The show opened Friday, and organizers say they expect as many as 1 million visitors over the next 10 weeks to pay a hefty $12 each to marvel at what they call "a combination of Chinese tradition and chocolate creativity."
They will have to pay extra to eat anything, though, and the terracotta army is protected by a high glass wall. To make up for it, ticket-holders will be able to gaze at the largest lollipop in China, about four and a half feet across.
The exhibition's manager, Zheng Yaoting, found it hard to explain exactly why she assembled such a bizarre collection of fantasy objects. But she says she hopes the display will help boost the chocolate market in China, where "qiao ke li" culture is still exotic.
The Chinese eat only a few ounces each of the stuff each year, compared to the 10 pounds or so that the average American gets through. "Chinese people don't dislike chocolate," says Ms. Zheng. "They just don't know much about it. We hope to change that."
---