As Rio Tinto trial ends, Australian firms eye China with caution
The Rio Tinto trial of four executives from the Australian mining giant on charges of bribery and espionage will have a 'lingering effect on the quality' of relations between Australia and China, analysts say.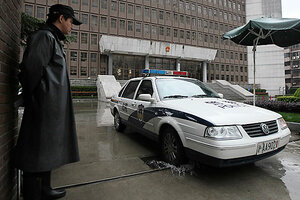 Eugene Hoshiko/AP
The trial of Stern Hu, an Australian citizen, and three other executives of the Rio Tinto mining company may affect the crucial trading relationship between Australia and China in subtle ways, but probably not materially, analysts say.
The trial of Mr. Hu and three Chinese executives – Ge Mingqiang, Liu Caikui, and Wang Yong – on bribery and commercial espionage charges concluded in Shanghai Wednesday, although verdicts will not be delivered for days or possibly weeks. At the start of the three-day case, held largely behind closed doors, all four pleaded guilty to taking bribes, although they disputed some of the sums involved. They face 5 to 15 years in prison.
The arrest last July of Hu, head of Rio Tinto's Shanghai office, has strained relations between Australia and China and raised fears of a knock-on impact on trade. China is Australia's biggest trading partner, and the former's rapid industrialization has fueled demand for Australian minerals, particularly iron ore to feed the country's steel mills. Chinese companies have also invested heavily in Australian mining ventures.
---