Britain names Chagos Islands world's largest marine preserve
The government of Britain named the Chagos Islands – home to the military base of Diego Garcia and some of the Indian Ocean's healthiest coral reefs – the world's largest marine preserve.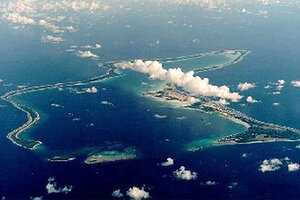 Newscom/File
A patch of ocean roughly the size of Texas and harboring some of the world's most pristine coral reefs has received tough new protection from the British government.
The 210,000 square-mile area, which embraces the Indian Ocean's Chagos Island archipelago, now represents the world's single largest marine protected area trumping the previous record marine-conservation set-asides. President George W. Bush approved the establishment of national marine monuments around the northern Hawaiian Islands in 2006 and along the Marianas Islands in 2009.
Taken together, the areas Britain and the US have designated for protection represent nearly half a million square miles of unique ocean ecosystems that serve as nurseries for a broad range of marine life.
Britain's declaration "is a historic victory for marine conservation," says Jay Nelson, director of the Pew Environment Group's Global Ocean Legacy project. Part of the area will be a "no take" reserve, meaning no fishing or collecting of living things at all, while human activities will be strictly regulated in the rest of the larger protected area.
---