Anger in Australia mounts after ship grounds on Great Barrier Reef
The Chinese coal freighter Shen Neng 1 that grounded on the Great Barrier Reef has been moved to safety. But the incident has made the public aware that freighters routinely take illegal shortcuts through the reef, and politicians are calling for steeper fines and legal action to protect it.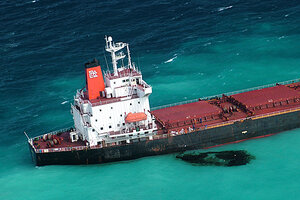 Queensland Maritime Safety/AP
The discovery Monday that a Chinese ship grounded in the Great Barrier Reef had caused greater damage than originally thought has ratcheted up anger in Australia.
The furor over the Shen Neng 1 – which ran into the world's largest stretch of coral reef 10 days ago while taking an illegal shortcut – has led to the discovery that a steady stream of cargo ships illegally cut through the reef's protected zone.
IN PICTURES: Disaster averted at the Great Barrier Reef
Fishermen near the Douglas Shoal off of Queensland, where the ship ran aground, told the Times of London they see at least one bulk carrier pass through each day. Australian Federal Police said it was "not unusual" for ships to cut through the reef.
The area has become known as a "coal highway" as countries like China buy more natural resources from Australia. The Shen Neng 1 was hauling 65,000 tons of coal.
---