Rescuers battle roadblocks, high altitude to reach survivors in China earthquake
The death toll in China's earthquake topped 600 on Thursday, as rescue teams pulled 1,000 survivors from the rubble but struggled with the high altitude and lack of heavy equipment.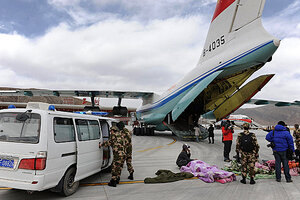 AP
Rescue teams scrambled to reach survivors in the remote earthquake zone of China's Qinghai Province on Thursday, pulling 1,000 people out from the rubble while coping with a lack of heavy equipment, damaged and blocked roads, and high altitude.
One day after a 6.9-magnitude quake struck poor and mountainous Yushu County, the death toll had risen to 617 people. Some 9,000 people were injured, 300 missing, and 100,000 homeless, Zou Ming, the Ministry of Civil Affairs director of disaster relief, told reporters in Beijing.
Rescue workers are still arriving by air and road from across China, as are foreign and local journalists, at the invitation of the provincial government.
IN PICTURES: Earthquake in China's Qinghai province
"Relief operations face massive difficulties, including severe weather, cold, and altitude sickness," said Miao Chonggang, deputy director of disaster relief at the China Earthquake Administration. Sniffer dogs arriving from outside Qinghai were getting dizzy and short of breath at the 13,000-foot-high area.
---