Benigno Aquino, son of beloved president, leads Philippine election results 2010
Philippine election results 2010 are mostly in. Presidential candidate Sen. Benigno Aquino leads with 40 percent and Joseph Estrada follows with 26 percent.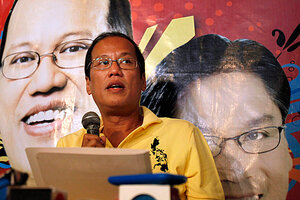 Bullit Marquez/AP
Opposition Senator Benigno "Noynoy" Aquino took a seemingly unassailable lead Tuesday in unofficial tallies of the votes cast in Monday's presidential election.
Mr. Aquino enjoys a reputation for probity – inherited from his late mother and popular former president – though he has little track record to indicate how he might manage in the top office, long associated with corruption and inefficiency.
With results from about 85 percent of the polling precincts, Aquino had 13,098,633 votes and his nearest rival, Joseph Estrada had 8,385,557, according to a private poll watchdog organization accredited by the official Commission on Elections. It is unlikely that all the votes still to be counted will go to Estrada.
Mr. Estrada has not conceded victory, though, unlike the other main candidates. It is up to Congress to proclaim the official winner, and it is not due to do so for some days.
Aquino: strong brand name
Mr. Aquino campaigned on an anticorruption platform, contrasting his reputation for honesty with that of the outgoing president, Gloria Macapagal Arroyo. Arroyo's administration has been plagued by corruption scandals.
---