Australia's Aboriginals won land, now defend right to use it
Australian Aboriginals and environmentalists once allied to protect land. Now they're split over whether struggling indigenous communities should exploit it for mining and other economic activity.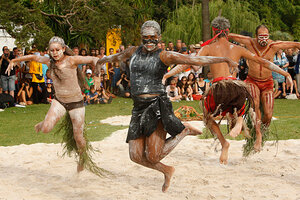 Rob Griffith/AP/File
For environmentalists, it doesn't get much better than Australia's Cape York Peninsula, a vast expanse of wetlands, tropical rainforest, savannah grasslands, and bone-white sand dunes, sheltering one-half of the country's birds and one-third of its mammals.
The wild and beautiful Cape at Queensland's northeast tip is also home to 10,000 Aboriginal people, many living in communities blighted by poverty and social dysfunction. To their leaders, economic activity – including mining, forestry, and cattle-grazing – seems like the obvious solution.
Now green and black interests, which were once closely aligned in this resource-rich region, are bitterly opposed, thanks to a law passed by the Queensland government designating a dozen waterways in Cape York as "wild rivers."
The legislation restricts development and commercial activities, including fishing, within half a mile of such rivers and their catchment areas. Large swaths of land will effectively be placed out of bounds – a move welcomed by conservation organizations such as the powerful Wilderness Society, but denounced by senior Aborigines as "economic apartheid."
Similar conflicts are being played out around Australia as indigenous groups, having won back their land, seek to exploit it economically to escape welfare dependency. In the far northwest, environmentalists are horrified that Aboriginal landowners have approved the building of a major gas processing plant on a pristine coastal site.
To use and enjoy the land
---