Koreans warm to historic Japan apology on colonial rule – but want more
In South Korea, Japan's apology on colonial rule, which for the first time acknowledged the forced annexation of Korea, was well received. But those who suffered as sex slaves and laborers in World War II want compensation.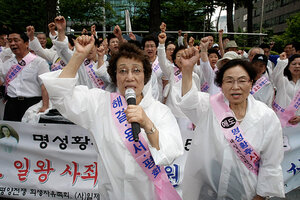 Ahn Young-joon/AP
Japan's Prime Minister Naoto Kan surprised Koreans with a contrite apology Tuesday for an entire era of Japanese colonial rule that began a century ago this month and did not end until the Japanese surrender on August 15, 1945, ending World War II.
The "deep remorse" and "heartfelt apology" offered by Mr. Kan, however, is not likely to have a significant effect on a society accustomed to Japanese apologies in recent years and doubtful about Japan's intention to ever compensate for forcing more than 1 million Koreans to work in Japan as slave laborers and thousands of Korean women to serve as prostitutes for Japanese soldiers.
"To me it's not inspiring or impressive," says Park Ho-chan, who works in an office in central Seoul. "It's a total cliche from one of those politicians."
Yet the apology resonates among conservative Korean leaders at a time when they are deeply concerned about confrontation with North Korea, which is strongly allied with China. Kan followed the apology with a 20-minute telephone conversation with South Korea's President Lee Myung-bak in which Mr. Lee seemed impressed by "the sincerity" of the apology and called for "wise and sincere" cooperation.
Where is the compensation?
Those honeyed words, though, were not likely to satisfy those who have been highly critical of some of the failure of Japan to agree to compensation for the suffering of millions of Koreans under Japanese rule, which grew steadily more harsh as Japan was suffering defeat after defeat in the final period of World War II.
---