Jimmy Carter's North Korea visit: Can he repeat Bill Clinton's success?
Jimmy Carter's North Korea trip this week may echo a successful meeting he had in Pyongyang 16 years ago. But can he secure the release of an American hostage as fellow former President Bill Clinton did last year?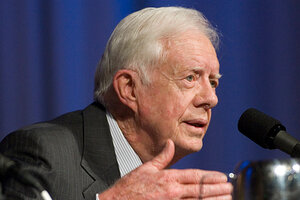 John Amis/AP/File
Former President Jimmy Carter is reportedly poised to fly to North Korea on a rescue mission this week that carries what analysts see as tremendous diplomatic significance amid rising tensions on the Korean peninsula.
The ostensible reason for Mr. Carter to fly to Pyongyang is to pick up a 30-year-old American whom North Korean soldiers seized after he crossed the border into North Korea from China last February.
Aijalon Mahli Gomes, who was teaching English in South Korea before deciding to go to North Korea, attempted to commit suicide, according to a North Korean report, after a court in April sentenced him to eight years in prison. Two American doctors, accompanied by consular officials, saw him earlier this month, and US officials have been pressing hard for a way to have him released.
A State Department official has said any such mission would be "humanitarian," but it assumes special significance in view of Carter's success in defusing the first Korean nuclear crisis more than 16 years ago when he met with North Korea's "Great Leader" Kim Il-sung.
---