China-Japan spat drives plunge in support for Japan's Kan
Japanese Prime Minister Naoto Kan met Chinese Premier Wen Jiabao on the sidelines of the Asia-Europe summit in Brussels Monday, but the issues at the heart of recent China-Japan friction remain unresolved.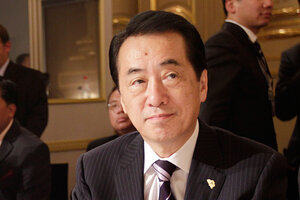 Yves Logghe/AP
Monday's meeting between Japanese Prime Minister Naoto Kan and Chinese Premier Wen Jiabao is the clearest sign yet that the countries are mending fences after their worst bilateral row for years.
Over the course of a 25-minute "spontaneous" encounter after dinner at the Asia-Europe summit in Brussels, the leaders, according to Mr. Kan, agreed to "return to the starting point of improving our strategically mutual beneficial relations."
But the show of postprandial statesmanship falls well short of a resolution of the issue at the heart of recent friction: competing territorial claims to the Senkakus, a group of uninhabited islands in the east China Sea that China refers to as the Diaoyu, and drilling rights to nearby oil and gas fields.
And unfortunately for Mr. Kan, the Japanese public has taken a dim view of his handling of the spat, which erupted after a Chinese trawler collided with Japanese Coast Guard vessels near the Senkakus early last month.
Political support for Mr. Kan plummets
---