Cambodia Water Festival turns tragic with deadly stampede
At least 339 people died in the stampede, according to Prime Minister Hun Sen, who called it a terrible tragedy. The Water Festival has seen troubles in past years.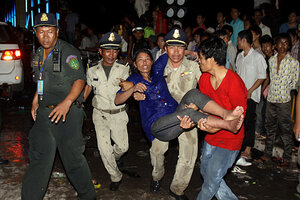 Heng Sinith/AP
A stampede in Cambodia late Monday night killed at least 339 people and injured as many more, with hospital officials projecting the death toll would continue to rise.
The stampede happened during Cambodia's annual Water Festival, which drew a record 4 million people from around the country and region to watch three days of traditional boat races on the Bassac River in the capital.
Prime Minister Hun Sen called it the "biggest tragedy since the Pol Pot regime." While the comparison is extreme – the Khmer Rouge caused the deaths up to 2 million people in the late 1970s – this is the most deadly incident at a festival plagued by repeated problems.
A Singaporean boat capsized in 2008 and killed five rowers, and one Cambodian rower drowned in 2009. The latest incident raises questions whether the government has the capabilities to handle the ever larger festival crowds, which have increased by several million people in recent years and overwhelmed Phnom Penh's facilities.
The stampede broke out on a recently built bridge that crosses from the mainland over the Bassac River to Diamond Island, where a concert was held Monday night to conclude the Water Festival.
Yan San, who was visiting from outside the city, says the bridge became clogged at 9 p.m., a stampede began at 11 p.m., and he himself was stuck on the bridge until 1 a.m. with his legs injured.
---