After North Korea attacks, South Koreans seem unfazed - mostly
North Korea's attack, one of the worst since the Korean War, didn't jar most Seoul residents as they listened to Jingle Bells or tuned into the Asian Games. But men of military age are concerned.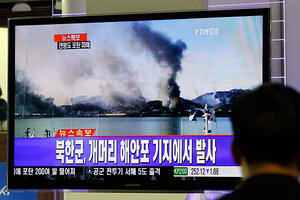 Lee Jin-man/AP
North Korea's bombardment of Yeonpyeong Island today, which killed two soldiers and destroyed several houses, is being called one of the worst attacks on South Korean civilians since the Korean War. But you wouldn't have guessed it from the streets of Seoul this afternoon.
A Starbucks not far from the president's office was bustling as usual when news of the clash broke. Jazz renditions of "Good King Wenceslas" and "Jingle Bells" played while customers sipped their lattes and chatted on their cell phones.
Street vendors selling cheap hoduk pancakes and tteokbokki, spicy rice cake stew, turned their portable television sets to the news only to switch back later to coverage of the Asian Games now being contested in China.
South Korean archer Yun Ok-hee took gold in the women's individual competition as the conflict was unfolding. Despite the tensions, Yun shook hands with North Korean bronze medalist Kwon Un-sil at the awards ceremony.
---