North Korean attack: South mingles toughness with calls for calm
North Korean attack on South Korea was the first such event on land since the Korean War. South Korean analysts appear puzzled over how best to respond to the North Korean attack.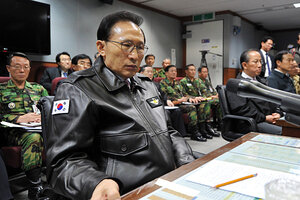 Yonhap/AP
North Korea escalated the confrontation in the Yellow Sea a significant notch on Tuesday with an artillery barrage on a small South Korean island that set homes ablaze, killed at least two South Korean marines, and injured at least 16 others, including civilians.
The barrage was primarily against South Korean marines conducting exercises in the area but was at the same time the most severe attack on a civilian population center since the Korean War ended in an uneasy truce in 1953. It was, however, by no means the bloodiest episode between the two Koreas since then.
The fact that North Koreans did not not hesitate to fire on a civilians came as something of a shock to some South Koreans as they watched television footage showing black plumes of smoke rising from the village on the small island just south of the Northern Limit Line below which the South tries to ban North Korean vessels.
For South Koreans crowded around television sets, the overriding question, as expressed by office worker Lee Yong-suk, was whether the flareup would spread into a much wider confrontation in which North Korean gunners could intimidate the huge populace around Seoul and the nearby west coast port of Incheon.
"People are shocked," she said. "People are dying. It's a kind of war, " she went on, giving a sense of mounting casualties not borne out by news reports.
South Korea's President Lee Myung-bak mingled toughness with calls for calm that in a sense reflected South Korea's frustration over how to respond to a barrage that began around 2:30 in the afternoon and did not end until three hours later. All told, North Korea fired about 100 artillery shells, reportedly from positions on land several miles north of the island. South Korean gunners fired 80 shells in response, but what damage they caused was not clear.
---