South Koreans see North Korea's restraint as calculated
On Yeonpyeong Island and on the streets of Seoul, South Koreans say that North Korea is hoping to portray itself as a voice of reason by not responding to South Korea's artillery drills Monday.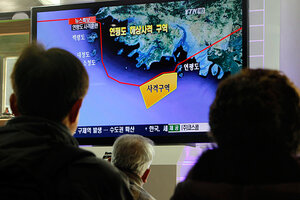 Truth Leem/Reuters
North Korea Monday failed to follow through on its pointed threats to deliver a double dose of retaliation after the South carried out a live-fire artillery drill near the disputed sea border between the two states.
But for many relieved South Koreans, the decision not to respond was merely a bluff intended to extract concessions – and appease an unimpressed international community.
The 90-minute-long afternoon exercise off the southwest coast of Yeonpyeong island passed off without even the hint of a countermeasure from the North, according to observers on the scene.
As the night progressed with still no sign of another attack after the drill's 4 p.m. close, fears that the frontline outcropping would be the center of another escalation in tensions were gradually quelled. With it, a realigned calm appeared to descend over South Korea.
For Jung Sung-san, a defector who escaped from North Korea in 1995, the non-response was inevitable.
"The fact North Korea is not responding to this drill means they have already calculated their own tactics under the table," says Mr. Jung, the director of a play on life inside a North Korean prison camp. "I think the joint South Korean-US drills that happened in November involving the USS George Washington already showed the North we are not going to cave in."
---