South Korea moves to boost ties with China in wake of North Korea attacks
South Korea announced that it is boosting funds related to initiatives with China. The move comes after North Korea's attack on an island last month.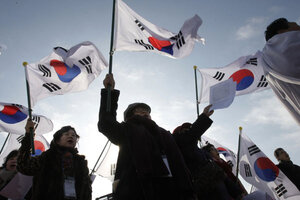 Ahn Young-joon/AP Photo
Seoul is pressing once again to bolster its relationship with China after North Korea's attack on a small South Korean island in the Yellow Sea last month, in what appears to be a retreat from its defense-heavy approach.
The Ministry of Foreign Affairs and Trade has announced that it is increasing its annual China-related budget next year to 3 billion won ($2.6 million), a nearly eight-fold increase from this year's 390 million won ($340,000). The government is hoping that the increase will send a clear message to China that after a period of tense relations – which included a series of naval drills that irked Beijing – it is ready to talk.
The new budget will cover task forces that tackle anti-Korean sentiment in China and a new China Center that will bring together academics and politicians to craft stronger diplomatic policies. Additionally, a bilateral strategic dialogue between the two nations will advance from the vice-ministerial to the ministerial level.
"For our country, relations with China have been taking an increasingly important place in security and stability on the Korean Peninsula and our prosperity," Yonhap News Agency quoted Seoul's foreign minister, Kim Sung-hwan, as saying at the opening of the China Center yesterday. "Close cooperation between the two countries is essential on issues related to North Korea and nuclear and other North Korea issues."
---