Could North Korea bring South Korea and Japan together?
If signed, two proposed military cooperation agreements to deal with North Korea would be the first such agreements between the two nations since Japan's occupation of Korea in the early 20th century.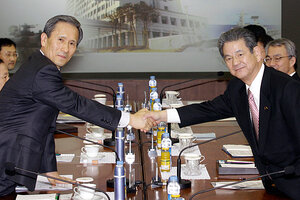 Lee Jin-man/Reuters
South Korean and Japanese Defense chiefs meeting in Seoul on Monday appear to be working toward strengthening military cooperation between the two nations. The meeting laid the groundwork for the exchange of military supplies and services and the sharing of intelligence, two items deemed essential to countering any future North Korean aggression.
In a joint statement, Japanese Defense Minister Toshimi Kitazawa and his Seoul counterpart, Kim Kwan-jin, stressed the importance of coordinating military efforts to rein in North Korea.
"The two ministers shared views that North Korea's recent provocations, including the artillery strike on Yeonpyeong Island and the revelation of its uranium enrichment facility, can never be tolerated," the statement read.
RELATED What's behind North Korea's offer for unconditional talks?
The ministers discussed signing two pacts in the future, the first of which would allow the two nations to share military supplies during peacekeeping and disaster relief operations.The second, the "General Security of Military Information Agreement," would set up a system for the exchange of military secrets. Seoul and Tokyo have held talks on the creation of the GSMIA in the past, but failed to sign the agreement.
"South Korea has this sort of agreement – in terms of military intelligence sharing – with 21 other countries, but not Japan," Lee Jung-hoon, professor of international relations at Yonsei University, says.
---