US, South Korea skeptical of North Korea's nuclear offer
US envoy Bill Richardson said its offer to allow nuclear inspections was a 'step in the right direction.' But the US and the South note a 'string of broken promises.'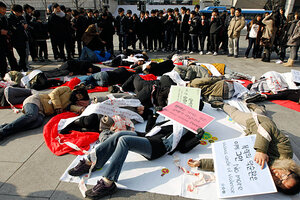 Lee Jae-Won/Reuters
North Korea's decision not to retaliate against South Korean military exercises Monday, and its declared readiness to allow inspectors to visit its nuclear facilities again, signal that the isolated and secretive nation is taking a new, less violent tack in dealing with the rest of the world.
But they offer scant hope that Pyongyang is prepared to relinquish its nuclear weapons program as the rest of the world is demanding.
That is the conclusion reached by American, Chinese, and South Korean analysts who say they expect little of substance to emerge from North Korea's offer to let United Nations inspectors check that it is not producing enriched uranium for a bomb, and to sell nuclear fuel rods that could also be used to make a plutonium bomb.
Bill Richardson, the governor of New Mexico and unofficial US envoy to Pyongyang who extracted the pledges, said Tuesday after a four-day visit there that North Korea had taken "a step in the right direction."
He urged "a new effort at re-engagement" with Pyongyang, which last year walked out of six-nation talks aimed at ending its nuclear weapons program in return for economic aid.
---