New Zealand earthquake preparedness: Authorities battled complacency
Thanks to modern building codes and sound disaster insurance policies, the damage from Tuesday's devastating New Zealand earthquake was limited.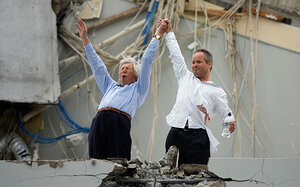 John Kirk-Anderson/Christchurch Press/Reuters
New Zealanders have received a violent wake-up call: It's past time to be prepared for the "Big One" – the long-feared major earthquake authorities have been warning about for years.
As this small island nation picks up the pieces from the 6.3-magnitude earthquake that walloped its second-largest city, Christchurch, leaving scores dead and hundreds of people still trapped, officials are set once again to assess whether routinely dire warnings have yet led to the hoped-for sea change in the nation's preparedness.
Local building regulations in place since the mid-2000s appear to have served the city well, according to Graeme Beattie, a structural engineer in Christchurch this week to look at the seismic response of structures.
In 2001, Mr. Beattie joined a similar reconnaissance team to Seattle following the Nisqually earthquake, and again in Chile after last year's Maule earthquake.
Beattie says that what he has seen here looks like relatively good news for the owners and inhabitants of buildings made to the more rigorous standards of the past five years. "Certainly," he notes, "I haven't seen any supermodern buildings that have come to serious grief."
At the same time, he says, it remained harder to quantify the question of psychological preparedness among the city's 400,000 inhabitants.
"It's easy for people to become complacent, to forget [the threat of earthquakes]," says Beattie. Especially in a natural setting like Christchurch.
---