Japan earthquake: Why the Asian nation will rebound from temblor and tsunami
The Japan earthquake and tsunami will take years to recover from. But few peoples are as resilient and socially cohesive as the Japanese.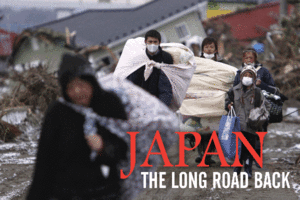 AP Photo/John Kehe staff illustration
After a survey of the wreckage-strewn devastation on the edge of this once-bustling port, Japanese Premier Naoto Kan's declaration that his country is suffering its worst crisis since World War II rings horribly true.
It is impossible not to recall images of Hiroshima in 1945. Two weeks ago, here stood street after street of homes, shops, factories, and warehouses. Today, a sodden wasteland stretches into the distance, choked with the silent remains of a daily life that was swept away March 11 by a wall of water.
Cars lie on their sides, crushed. Reinforced concrete telephone poles droop, bent like straws. Whole houses, some still intact but adrift from their foundations, lean drunkenly wherever they washed up.
It is a near-apocalyptic vision matched in other towns and villages along Japan's northeastern coast that were struck by a tsunami triggered by the most powerful earthquake in the country's history. And in a bitter irony for the only nation to have suffered the effects of atomic weapons, the danger of a nuclear disaster shadows the land as engineers battle to stabilize damaged reactors at the Fukushima Daiichi power plant.
For Japan – a country that has struggled for two decades to shake off political and economic stagnation, has sometimes seemed racked by self-doubt, and is having to cope with the burden of a rapidly aging population – the disaster's death toll, financial costs, and nuclear implications might be expected to add to a deep malaise.
Instead, say many foreign observers and Japanese alike, the need to recover from the crisis may in fact serve to give the country a new sense of purpose: Fortune may be born of misfortune, as a Japanese saying has it. That, though, is subject to the crucial caveat that no one can begin to foresee how the government or people would react should radioactive fallout threaten millions of citizens.
---