Fear and gas shortages isolate Japanese farming towns outside evacuation zone
Just because we're close to Fukushima Daiichi doesn't mean we get more radiation, insists one local mayor. Still, Japan has banned the sale of milk and spinach from farms near the power plant.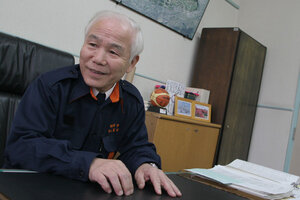 Erico Waga/Special to the Christian Science Monitor
Bedraggled under the steady rain, the string of shops and homes that make up the main street of this nondescript small town is deserted save for the occasional car swishing by. The shutters are down on all the storefronts, and piles of uncollected garbage sit by the roadside.
Funahiki is 25 miles from the stricken Fukushima Daiichi nuclear plant, 12 miles outside the Japanese government-decreed evacuation zone. But like scores of other towns and villages too close for comfort to the reactors, it has been effectively cut off from the rest of the country by a lack of gasoline and simple fear. Furthermore, in the wake of news of contaminated food, farming communities like this one in Fukushima prefecture, where a quarter of the workforce depends on agriculture, are deeply concerned about the region's future.
"Delivery drivers won't come here, the post office is closed because the staff who live outside town are scared to come to work, even a lot of the doctors and nurses have left," complains the mayor, Yukei Tomitsuka. "We are the victims of prejudice."
Among the lowest radiation levels
He brandishes the latest report from the two electronic radiation detectors that have been set up in Tamura City, an extensive collection of small towns and farming villages for which Funahiki is the county seat. It shows that radiation levels here were among the lowest in Fukushima prefecture at noon on Monday.
"People think that because we are closer to Daiichi we get more radiation but it's not true," Mr. Tomitsuka insists.
Only about 10 percent of Tamura's 41,000 residents have fled, according to the mayor, but few of those who remain are anywhere to be seen.
---