South Korean tech companies pick up slack left by Japan
The global high-tech industry is suffering significant production losses as Japan's dominant semiconductor manufacturers struggle to resume operations. South Korean firms are moving to fill the void.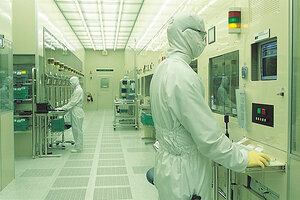 Samsung/Reuters
Japan is the birthplace of 20 percent of the world's semiconductors – the crucial piece of technology behind smartphones, tablets, computers, and cars.
But as disaster-hit Japanese technology manufacturers and parts suppliers struggle to resume operations, the global technology industry is suffering production losses in the hundreds of thousands of computer parts, at a cost likely to amount well into the millions of dollars. Some predict it could be up to six months before Japanese production of semiconductors fully resumes.
Enter South Korean firms such as Samsung and Hynix, world leaders in the production of memory chips and LCD screens for mobile and computer industry giants like Apple and Dell.
"The quake could lead to good momentum in [exporting] components such as memory chips and LCD screens because Samsung and Hynix will be better positioned to supply more to big tech firms such as Apple, Dell, Hewlett-Packard," says Kim Yoo-chul, a Seoul-based technology journalist.
"As an example, Apple asked Samsung and Hynix Semiconductor to provide more NAND flash memory chips and mobile DRAMs used for its iPad 2 and iPhone 5, as Toshiba has been known to have had some disruptions in the supply of its NAND chips to Apple."
Hynix, the second-largest memory-chipmaker in the world behind Samsung, is also said to be boosting its production of mobile DRAM chips at the request of foreign companies, he adds.
---