Why Fukushima isn't Chernobyl, despite rise in crisis level
Japan's prime minister is urging the public not to panic after the government boosted the severity level of the crisis at Fukushima to the highest rating, the same level as the 1986 Chernobyl disaster.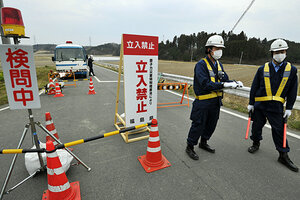 Kyodo News/AP
Japan on Tuesday raised the severity rating at the stricken Fukushima Daiichi nuclear power plant to level 7, the most serious on the international scale and the same rating that was given 25 years ago to Chernobyl, as aftershocks close to the facility heighten safety concerns.
Experts are not agreed, however, as to the extent of the radiation leaks and whether it can yet be said to be as bad as the 1986 disaster in Ukraine.
The Nuclear Safety Commission of Japan and the Nuclear Industrial Safety Agency (NISA) held a joint press conference today to announce they were raising the rating at Fukushima from its current level 5 to level 7. A little more than one month has passed since a magnitude 9.0 earthquake struck the northeast coast of Japan and triggered a 30-foot tsunami that first damaged the plant.
The International Nuclear and Radiological Event Scale defines a level 7 accident as a "major release of radioactive material with widespread health and environmental effects."
Severity rating raised
Shortly after Japan raised the crisis level, Prime Minister Naoto Kan told citizens in a televised address not to panic. "Right now, the situation of the nuclear reactors at the Fukushima plant has been stabilizing step by step. The amount of radiation leaks is on the decline," he said. "But we are not at the stage yet where we can let our guards down."
---