Thai-Cambodian border dispute heads to Hague as commanders meet again
Deadly skirmishes overnight on the Thai-Cambodian border broke a tentative cease-fire, but army commanders are holding talks again today as Cambodia simultaneously took the case to The Hague.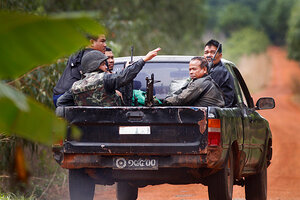 Wason Wanichkorn/AP
As army commanders held talks today on the Thai-Cambodian border after six days of clashes that have left 16 dead in the worst fighting in nearly three years, Cambodian officials simultaneously opened a new diplomatic front in the battle for an 11th century Khmer temple.
Cambodia's government said Friday it has asked the International Court of Justice (ICJ) to clarify its 1962 ruling that awarded the temple to Cambodia, a request prompted by Thailand's "repeated armed aggression to exert its claim to Cambodia's territory."
Hundreds of troops from both nations have been camped out around the temple for years. After repeated deadly skirmishes and with United Nations and regional mediators repeatedly stifled in their attempts to negotiate a permanent cease-fire, Cambodia's bid to take the case back to The Hague after 50 years injects a new note of uncertainty into the border crisis.
Deadly gunfights early Friday broke a tentative truce agreed on late Thursday, with each side blaming the other for firing first. Thai military spokesman Col. Samsern Kaewkamnerd said the overnight exchanges of artillery and small arms fire killed one Thai soldier and injured four others, but he downplayed it as "sporadic clashes."
Thani Thongpakdee, a spokesman for Thailand's Foreign Ministry, said Cambodia had instigated the latest fighting in order to "lay the ground for their decision to submit their request [to the ICJ]." He told a press conference Friday that Thailand had already anticipated this strategy and was preparing its legal defense.
Perched on a tall cliff, Preah Vihear is a contemporary of Angkor Wat, the renowned Cambodian temple that appears on the Cambodian national flag and has become a major tourist attraction.
---