Would Japanese nationalist Abe's return to premiership fuel row with China?
Japan's main opposition party has chosen Shinzo Abe, the nationalist former prime minister, to lead it, positioning him to likely return to the prime minister's office by year's end.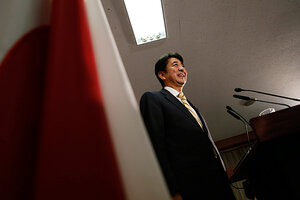 Toru Hanai/Reuters
As Japan's relations with China and Taiwan reach the lowest point in years, the country's main opposition party has elected a hawkish former prime minister to lead the party, positioning him to be the likely next premier.
Shinzo Abe, who resigned as Japan's prime minister in 2007 a year and a day after taking office citing of deadlock and health problems, was chosen as leader of the Liberal Democratic Party on Wednesday. With an election in the next few months, and the Democratic Party of Japan government trailing badly in opinion polls, Mr. Abe looks set to return to the prime minister's office, though probably with the help of a coalition partner.
Abe is seen as a strong nationalist and, along with all the other candidates in the leadership race, has been calling for a tougher line with China over the territorial row about the set of small islands that Japan calls Senkaku and China calls Diaoyu. However, analysts say he will take a pragmatic approach if he becomes prime minister, as he did in his last period in office. Indeed, early comments following his election as party leader indicate he has already begun to soften his stance.
---