Isolated Taiwan to get wider global reach with US visa waivers
The United States announced that it will include Taiwan in its Visa Waiver Program starting Nov. 1.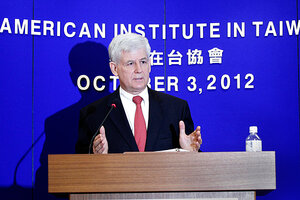 Pichi Chuang/Reuters
The United States has offered Taiwan a hard-to-get waiver on travel visas, giving wider global reach to a diplomatically isolated island and advancing Washington's growing long-term partnerships in Asia.
US Department of Homeland Security Secretary Janet Napolitano announced yesterday in Washington that Taiwan had become the 37th place – the fifth in Asia – to be exempted from travel visas to enter the US. Beginning Nov. 1, Taiwanese can stay up to 90 days without spending any time or money on obtaining the documents.
The move helps Taiwan expand its influence by making US travel more accessible to tourists, businesspeople, and academic conference participants. The US, in turn, can advance part of its pivot-to-Asia strategy by forming closer economic, trade, and commercial ties to Taiwan.
"Visa waivers offer the kind of convenience and freedom that make the average people in Taiwan get a better sense of what international space really means to them," says Raymond Wu, managing director of Taipei-based political risk consultancy e-telligence.
The visa waiver decision comes in spite of efforts by China, which has considered Taiwan part of its territory since the Chinese civil war of the 1940s and does not have a US visa waiver. China has used its diplomatic clout, backed by its huge economy, to stop Taiwan from joining international agencies or forming formal ties with its 170-plus foreign allies, including some of the world's most powerful, like Russia.
Taiwanese President Ma Ying-jeou has pledged stronger ties for Taiwan to major world nations, despite a lack of formal diplomatic recognition. Mr. Ma pushed for the visa waiver, a core part of his agenda, for three years.
---