Japan's Abe: Will the hawkish nationalist have to rule as a moderate?
The new prime minister ran on a platform of restoring national pride and standing up to China, but pressures in and outside the country may force him to dial back that rhetoric.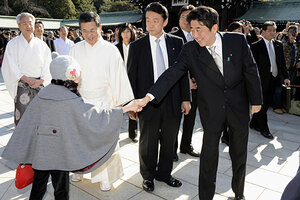 Kyodo News/AP
As Japan celebrated its Coming of Age national holiday yesterday, Prime Minister Shinzo Abe made an apparently innocuous public visit, paying his respects at Tokyo's Meiji Shrine. 
But for a newly elected prime minister keen to establish his nationalist credentials without further raising tensions with Japan's Asian neighbors, the choice both had deliberate symbolism and may be a harbinger of the compromises Mr. Abe will be forced to make to his hawkish agenda – at least for now.  
Meiji Shrine is a popular sightseeing spot for local and overseas tourists, as well as a sacred site in Japan's traditional Shinto religion, but it also honors the emperor in whose name Japan waged war across Asia in the middle of the 20th century.   
It remains however, a far less controversial destination than the nearby Yasukuni Shrine, where the souls of Class-A war criminals are said to be interred. Public visits to Yasukuni by Japanese politicians provoke angry reactions from Beijing and Seoul, and have generally been avoided by prime ministers since Junichiro Koizumi left office in 2006.
Abe's choice "was a kind of performance to the Japanese people," says Tetsuro Kato, a professor of politics at Waseda University. "It's very difficult to go to Yasukuni, and it's not the first visit by a Japanese prime minister to Meiji."  
In fact, the last Japanese prime minister to visit was Abe himself, during his short-lived first tenure between September 2006 and September 2007. 
Abe returned to office in December, following a huge electoral rejection of the left-leaning Democratic Party of Japan (DPJ). Abe ran a campaign full of promises to restore national pride and stand up to an increasingly powerful China. However, the rhetoric has been toned down since his victory, as he tries to find ways to keep the right wing of his Liberal Democratic Party (LDP) happy while not damaging relations with Japan's Asian neighbors or the United States.
Many analysts predict that Abe's nationalist tendencies will be kept in check, and he will concentrate on economic policy until he can win a majority in the Upper House elections, likely to happen in July. 
"If he wins a majority in the July elections, he may decide to visit Yasukuni on Aug. 15," says Professor Kato, referring to the anniversary of Japan's defeat in World War II, a date when the nation's prime ministers have traditionally chosen to pay their respects at the shrine.  
Aug. 15 is also a significant date for another pillar of Abe's agenda that is sure to anger China and South Korea – his pledge to scale back past apologies from the Japanese government for its wartime atrocities.
On Aug. 15, 1995, the 50th anniversary of Japan's surrender, then-Prime Minister Tomiichi Murayama issued an apology for the suffering his nation had caused during the war. Throughout his political career, Abe has talked about reviewing this declaration, along with another issued two years before it by Cabinet Secretary Yohei Kono, which acknowledged that thousands of women were used as sex slaves by the Japanese Imperial Army. 
While Japan is sometimes accused by victims of its imperial expansion of not having done enough to atone for its crimes, there are those on the ultra-nationalist right who believe its apologies have gone too far and damaged national pride. 
"Abe's rise in the ranks of the right wing of the LDP had a lot to do with his reactions against the Kono and Murayama statements," says Koichi Nakano, a professor of politics at Sophia University in Tokyo. "It is something of a pet project for him."  
Even if Abe's hand is strengthened by a strong performance in the summer election, however, he is likely to feel pressure from Japan's biggest ally to keep his historical revisionism to himself.  
The US has overlooked revisionist pronouncements by Japanese prime ministers in the past in return for strengthening the military alliance with the US, Professor Nakano says. However, there is a growing realization in Washington that such statements heighten the risk of Japanese conflict with China – something the US could find itself drawn into. 
Another check on Abe's nationalist tendencies will likely come from the Japanese people, who few observers think have moved as far to the right as their elected politicians.    
"A gap has emerged between the Japanese politicians and the public, in that [the government] has shifted to the right, but the electorate really hasn't," Nakano says. "Even Abe doesn't believe he is back by popular demand." 
Nevertheless, with more nationalist voices on the political stage, including the new Japan Restoration Party led by serial China-baiter and former Tokyo governor Shintaro Ishihara, some worry the entire political debate could be shifting to the right. 
Another concern is that growing income disparity in Japan may threaten the largely centrist consensus that has dominated the post-war period.  
"With 16 percent of Japanese people now living in relative poverty, that can be a breeding ground for nationalism, as it's easy to blame China or other outsiders for all their problems," Nakano says. "China and Japan are now so intertwined economically that it should keep things in perspective, but there are no guarantees."
---