After Pakistan election, Musharraf has few good options
Pakistan's president lost his final base of support in Monday's parliamentary election.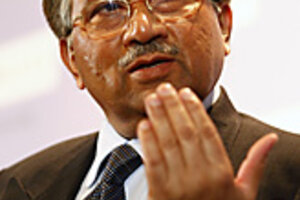 Alessia Pierdomenico/Reuters
For the first time since he seized control of Pakistan in a 1999 coup, Pervez Musharraf's presidency appears to be out of his hands.
The comprehensive defeat of the political forces that were loyal to him in Monday's election – coupled with his retirement as Army chief in November – means he is a man with no meaningful bases of support and only nominal powers as president, experts say.
The man so adept at surviving repeated crises now has few viable options, they say.
If he chooses to fight and use the powers of the presidency, opposition parties will create chaos in the country. If he reinvents himself as a conciliatory elder statesman, the parties might still reject him, not wanting to save an unpopular leader.
It means that the United States, which for so long has depended on Musharraf as "one-stop shopping," is now hastily trying to understand the levers of power in Pakistan's new and more diffuse political scenario.
"Musharraf and the US had reached a stable working relationship – his departure would raise questions in Washington about how to manage the partnership and where to go for assistance, both in a tactical sense and a longer-term one," says Daniel Markey, a Pakistan expert for the US-based Council on Foreign Relations, in an e-mail.
---
Follow Stories Like This
Get the Monitor stories you care about delivered to your inbox.