Pakistan: No bombs, but plenty of tension as polls close for counting
Election observers have reported few instances of fraud, a key concern as officials begin tallying results.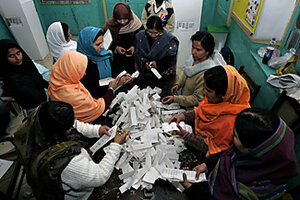 anjum naveed/ap
On a day that began with fears of suicide bombings and massive vote-rigging, something else emerged from the nation's polling stations – an unvarnished look at democracy, Pakistan-style.
Voters turned out for long-anticipated parliamentary elections, which were originally scheduled in January but postponed after the Dec. 27 assassination of popular opposition leader Benazir Bhutto.
Her Pakistan People's Party and another opposition group, Pakistan Muslim League-N (PML-N), are expected to do well against the ruling Pakistan Muslim League-Q, which supports the increasingly unpopular President Pervez Musharraf. Many see the election as a referendum on Mr. Musharraf's leadership.
West of Lahore, in the narrow strip of urban streets and fertile farmland wedged between the city and the Indian border, Pakistan emerged in miniature.
There was Mohammed Sardar, who wished to be able to afford bread again. There was Mohammed Younus, who voted for the candidate that his elders told him to, hoping she will fight terrorism, because people are too scared to leave their home and come to his mobile-phone shop, Mr. Younus says.
---