U.S. seeks more U.N. sanctions on Iran
The latest IAEA report was hailed by Iran's president as a 'historic victory." But the US still sees evidence of a weapons program.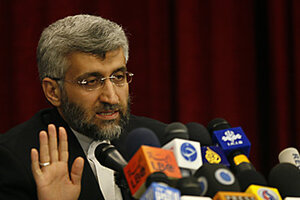 Vahid Salamei/AP
TEHRAN, Iran and ISTANBUL, Turkey
Iranian and American officials are drawing diametrically opposed interpretations from the latest report by the United Nation's nuclear watchdog. That sets the stage this week for a third UN sanctions resolution against a defiant Iran.
The International Atomic Energy Agency (IAEA) reported on Friday that Iran had made "quite good progress" in resolving longstanding questions, but that new issues raised by US intelligence documents means the agency can't yet determine the "full nature of Iran's nuclear program."
The IAEA says "alleged studies" into high-explosives testing and design of a missile reentry vehicle "could have a military nuclear dimension." Iran says the information – gleaned from a lap top computer that US officials say was stolen from inside Iran – is "baseless" and "fabricated."
Iran's President Mahmoud Ahmadinejad hailed the IAEA report as a "historic victory" for Iran, adding that "our schoolchildren can make forgeries better than they [US spy agencies] do."
The firebrand president dismissed any further UN sanctions over Iran's refusal to suspend uranium enrichment. "They could spend 100 years passing resolutions but it wouldn't change anything," said Mr. Ahmadinejad, warning of "firm reprisals."
The IAEA reported greater Iranian cooperation with access and documentation, a string of unannounced inspections, and no diversion of declared nuclear material. But it also said Iran has not suspended uranium enrichment – as required by the UN Security Council – and instead progressed with a more advanced centrifuge design that can enrich uranium 2.5 times faster.
---