Pakistani militants attack key NATO supply line
As part of their own 'surge,' they destroyed more than 160 Humvees and trucks bound for Afghanistan.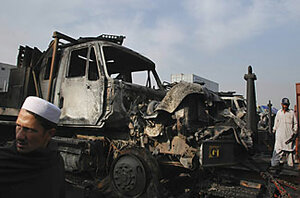 Mohammad Sajjad/AP
Militants near the Pakistani city of Peshawar destroyed more than 160 Humvees and trucks bound for Western forces in Afghanistan Sunday – the latest reminder that as the world focuses on Pakistan's eastern border with India, the militant threat along its western border is still spreading.
Sunday's attack marks an intensification of a militant strategy: attacking US and NATO supply lines. Some 70 percent of their equipment in Afghanistan comes through Pakistan.
At the same time, militants are pushing outward from tribal areas toward Peshawar in a "surge" of their own – trying to make headway before President-elect Obama takes office and sends more troops to Afghanistan.
"The Taliban will want to gain maximum ground before troops come," says Ahmed Rashid, author of "Descent Into Chaos," a book about Pakistan and Afghanistan since 9/11.
According to several reports, gunmen stormed two transportation terminals near Peshawar Sunday, blasting their way through and torching more than 160 trucks, some of which carried Army Humvees.
---