Rise in crime, kidnapping, top Afghans' worries
Western forces target the Taliban, but for many Afghans the biggest threat comes from criminals and complicitous police.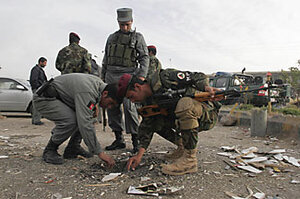 Fraidoon Pooyaa/AP
Hajji Habib Lal is a successful businessman in the southern Afghan city of Kandahar, importing fine ceramic plates from Germany and France. He also owns an AK-47 assault rifle.
Mr. Lal's son has already been kidnapped once – returned after 13 days for a $20,000 ransom. But Lal still gets death threats by phone, and a few days ago, thieves tried to break into his house. Only a few randomly fired shots from the AK-47 stopped them.
For the Afghans whose hearts and minds America and its allies are trying to win, the greatest enemy in many cases is not the Taliban, but criminals and the police who are often seen as being complicitous with them.
Even in areas where the government holds sway, law and order is rapidly deteriorating, stoking the frustrations that feed Afghanistan's insurgency.
"Our perception of security priorities is different from that of the vast majority of Afghans," says Andrew Wilder, author of "Cops or Robbers?" a 2007 report on police reform for the Afghanistan Research and Evaluation Unit, an independent think tank in Kabul.
---