Pakistan's top general reins in own Army
Army Chief Ashfaq Kayani has been curtailing the political influence of a military accustomed to running the country.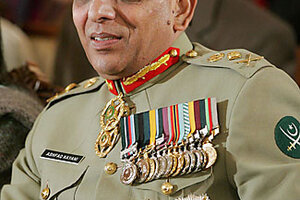 Zhou Lei/Xinhua/Newscom
NEW DELHI; and lahore, PAKISTAN
In recent weeks Pakistani President Asif Ali Zardari has repeatedly promised to cooperate with India and uproot terrorism. Yet Ashfaq Kayani is the one who can deliver.
As Army Chief, General Kayani is the man behind the curtain of Pakistani power, controlling an Army that has ruled for much of Pakistan's 61 years. Without Kayani's support, Mr. Zardari can do little against Lashkar-e-Taiba, the group tied to the Mumbai (formerly Bombay) attacks.
One year into the job, Kayani has been a reformer – clipping the Army's interference in politics and mounting offensives against militants in Pakistan's tribal areas.
But today's crisis poses unique challenges: His Army is stretched and in no mood to do its archrival's bidding.
As India applies more pressure, the days ahead will test Zardari, Kayani, and Pakistan's often-inverted chain of command.
"We are starting to see a greater cooperation between the government and the Army," says Ahmed Rashid, a political analyst in Lahore. But, he adds, it is a "fluid situation that is changing day to day."
---