Young Kashmiris step away from militancy
The contested state was relatively peaceful during polls, which ended Wednesday, largely due to a new generation using technology, not weapons, to protest Indian control.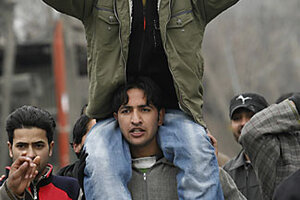 Fayaz Kabli/Reuters
The Indian establishment is probably in no mood to thank Hamid Bashir, considering he has spent the past few months pelting security forces with rocks and chanting anti-Indian slogans.
But like curfews and candidates, Mr. Bashir has also played a part in the relative peace that prevailed throughout month-long state elections that ended here Wednesday.
The would-be revolutionary wants India out of Kashmir. Yet, unlike members of the previous generation, he is not a militant. Instead of picking up a gun, Bashir, who asked that his real name not be used due to his political activities, has used text messages to create "flash mob" protests – instant rallies organized through cellphone messages – and posted videos on YouTube of unarmed protesters being shot, allegedly by Indian forces.
Even as India and Pakistan rattle sabers after last month's massacre in Mumbai (formerly Bombay), the 20-something's generation has helped Kashmir – the contested state at the heart of the two countries' enmity – take a historic step back from violence.
"There is an overwhelming understanding that the gun will not solve the problem now," says Muzammil Jameel of the Indian Express, who runs a workshop for young journalists in Srinagar.
This understanding has built gradually since the insurgency against Indian rule began in 1989. Kashmir is split between India and Pakistan, though both countries claim the state in full. The relatively high turnout in the seven phases of the election in Indian Kashmir, which began Nov. 17, is seen partly as Kashmiris' desire to focus their politicians on bread-and-butter issues long overlooked in the grand rhetoric of the freedom movement.
---