For Pakistan's Swat residents, uneasy calm
A tenuous cease-fire has halted Taliban-Army fighting, as negotiations for a permanent deal continue.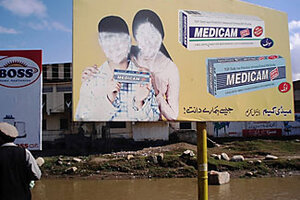 Issam Ahmed
Residents of the troubled Swat Valley are breathing a little more easily following the announcement of a cease-fire between the Pakistani government and Taliban forces last week, though uncertainty remains over how long peace can last.
The kidnapping and subsequent release of a senior government official on Sunday underscored the fragile nature of the deal negotiated last week by the government of the North West Frontier Province and hard-line cleric Maulana Sufi Mohammad.
During the 10-day cease-fire, Mr. Mohammad is attempting to convince Taliban militants – led by his son-in-law Maulana Fazlullah – to accept a long-term agreement to stop fighting if the government implements Islamic law. The two sides are discussing whether the to be imposed will simply help speed up a currently logjammed judicial system, or institute the Taliban's tougher stances such as banning girls' education.
The deal was greeted optimistically by provincial lawmakers as a respite from violence that has left more than 1,200 people dead, displaced at least 250,000, and seen the destruction of more than 150 schools.
Nestled between snow-capped peaks, the former princely state of Swat, which formally acceded to Pakistan in 1969, was once a thriving tourist venue.
Today, in the district's main town of Mingora, the hotels are abandoned and crumbling.
A similar fate has befallen many of the schools, police stations, roads, and other infrastructure that once made Swat a regional beacon of modernity and development.
Taliban fighters decked in combat gear and balaclavas can be seen roaming freely around the outskirts of the town, maintaining their own checkpoints, some few hundred yards away from heavily barricaded government ones.
---