Pakistani vigilantes take on Taliban
Residents of Peshawar, the main city outside militants' stronghold in the tribal areas, are forming armed patrols to defend their villages – sometimes with official backing.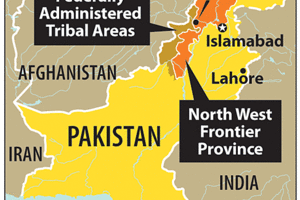 Rich Clabaugh/STAFF
In the town of Budaber, six miles from Peshawar's city center, Daud Khan makes sure his Kalashnikov is loaded before stepping into the dark street. As he walks out, seven young men join him, all armed.
Mr. Khan is a member of the nighttime civilian patrols that guard the streets and escort residents home. They usually work from 9 p.m. to 3 a.m., the peak time for bomb attacks, a local says.
Do-it-yourself security teams are becoming a fixture in and around Peshawar, the capital of the North West Frontier Province, as residents grow wary of the Taliban's growing presence – and doubtful of the government's ability to protect them. Some officials have backed the vigilantes, even supplied them with weapons, raising concerns they may fall into the wrong hands.
But residents are more worried about security. "It's the only way we can stay safe," says Khan. "Our survival against the Taliban lies in our personal efforts to guard ourselves."
30,000 rifles for 'patriotic people'
The Budaber operation was established at the behest of a member of the Provincial Assembly, but broader government support for such initiatives became evident last month when the provincial chief minister issued a controversial order to distribute guns for civilians to protect themselves.
In a press statement, Ameer Haider Khan Hoti directed officials to distribute 30,000 rifles among "patriotic people" and "peace loving groups" to guard their villages and help the police tackle terrorism.
---