Tibetan education thrives – in exile
As Tibetans mark 50 years since China's occupation of Tibet, the exile community sees a major accomplishment in creating a network of schools that preserves their language and culture.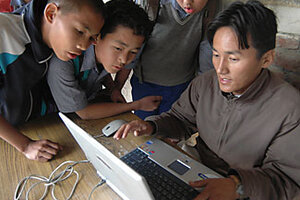 Mark Sappenfield/The Christian Science Monitor/File
In a sunny classroom in this Tibetan exile community, preschoolers stack blocks and color. One boy crouches on the floor over flashcards bearing pictures and English words. Alongside him, the sight of a little girl arranging cards with spiky Tibetan script hints that this school is anything but typical.
Some 2,000 Tibetan children live, study, and play here at the Tibetan Children's Village in Dharamsala, the Indian hill town that is the Dalai Lama's home in exile. The school, which goes through 12th grade, also has about 150 Indian, European, Japanese, and South Korean students whose parents have settled in the area.
This month, the 50th anniversary of China's occupation of Tibet, is a key one for the community. In anticipation of unrest, China has launched a "Strike Hard" campaign in Tibet and has stepped up security and arrests – though pro-Tibet protests are still erupting.
Ever since the Dalai Lama fled the invasion and set up an exile community here, his goal of autonomy for Tibet has remained elusive. But with China waging what he calls "cultural genocide" in Tibet, creating a solid education system has been central to his goal of preserving Tibetan culture.
The fact that "Tibetan exile society has established schools that function so successfully in India and provide a modern education is a considerable achievement in itself," says Elliot Sperling, an expert at Indiana University.
---